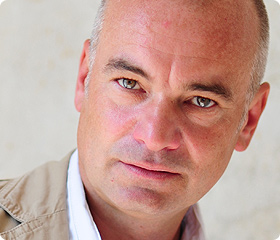 Biography - About Manfred Tausch
 Manfred Tausch was born in 1964 in the Austrian Province of Styria. He started his piano and organ training in early childhood. At the age of 10, he was already active as a liturgical organist in his region. It was also at that time that his organ improvisations began to astonish his listeners.
During his youth, he was forced to study the piano as an autodidact, due to a lack of suitable teachers. After finishing high school, he studied musical education, church music, piano, organ, improvisation, and voice at the University of Music and Performing Arts Graz. He finished his studies with distinction.
He studied repertoire with the Russian pianist Rudolph Kerer. From the age of 24, Manfred Tausch has been leading a class for piano at the University of Music and Performing Arts Graz.
From 1989 to 2000 he was working as the second organist at Graz Cathedral . His comprehensive education as a player of keyboard instruments led him to his commitment to perform on historical keyboard instruments. He cultivates these skills by giving concerts on the harpsichord and fortepiano.
His concerts have led him to many countries in Europe, East Asia, and the USA, where his courses on interpretation (in particular concerning Baroque and Viennese Classic) find considerable interest and appreciation.
He regularly engages in collaborations and piano concerts with the Recreation-Orchestra Graz, the Leoben Symphony Orchestra, the Kapfenberg Symphony Orchestra, the Sinfonietta Kindberg, and others, and performs at the Styriarte Festival.
His professional focus is classical improvisation, which he cultivates and grows with great success by performing in concerts of various musical styles.